I'm linking this post to the Soup-a-Palooza
at
TidyMom
and
Dine and Dish
sponsored by
Bush's Beans
,
Hip Hostess
,
Pillsbury
and
Westminster Crackers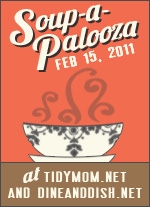 My mom is known for her love of entertaining, but not so much for her love of cooking. Sure she'll cook when she and my dad are having people over, but she'd much rather spend her time making crafts than food. So most of the recipes I learned from her are simple to prepare and completely delicious. Her chili recipe is no exception. I served it at our housewarming/meet our puppy party and got all kinds of complements on it.
My mom's chili recipe:
Ingredients:
1 large can V8 juice
1-1 1/2 pounds of ground beef
2 cans red kidney beans
2 cans diced tomatoes
any other spices or additions you'd like (We've been known to add onion, noodles, chili powder, garlic powder, onion powder, etc.)
Combine in a large Crock pot and cook on low until warmed through. I usually let it simmer for most of the day. Then I serve it with cheese and sour cream on the top. Mmmm...
One trick to this recipe? It's ALWAYS better the next day. I have no idea why but everyone I know swears that it's true.