I wore my red shoes in honor of the ruby slippers.
(I know. I'm a dork...)
Last night, Andrew and I went to see Wicked! We had tickets to go see it a few weeks ago, but we both ended up with the flu so we didn't get to go. Andrew surprised me on Christmas morning with tickets to see it on January 1st, the last night it was in town. We made a night of it by going out to dinner first. It's always fun to get dressed up and go out with my husband, but I'd been anticipating this so long that it made it even better.
The show was amazing! It was so much better than I expected it to be. I've been listening to the soundtrack for years, but I knew that I didn't know the entire plot. But there were at least three plot twists that I didn't see coming at all.
The acting and singing was every bit as good as the soundtrack and the sets and costumes were unbelievable. We weren't allowed to take pictures in the show, but I wanted to share some pictures from around the web.
This was the set before the curtain was even raised. The dragon was amazing.
It moved and breathed smoke out of its mouth. Image from here.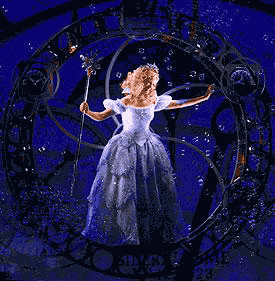 Glinda (or Galinda depending on what part of the show it is)
came floated down in her bubble and sparkly dress. Image from here.

Elphaba (aka the wicked witch of the West) is quite different
from Glinda because she wears black for the entire show and,
of course, she's green too! Image from here.
They're enemies at the beginning of the show.
Image from here.
But friends by the end.
Image from here.
If you get the chance to go see it, you definitely should! I absolutely LOVED it!